A rural retreat in Wiltshire
This secluded holiday cottage in Wiltshire is hidden away in the garden of a converted church in the Vale of Pewsey.
All Saints Cottage has one double bedroom, a bathroom, kitchen and sitting room, parking and a private garden backing onto woods.
Whilst in a secluded location, the cottage is only a 15-minute walk to a country pub, cafes serving food and a small farm shop in a garden centre.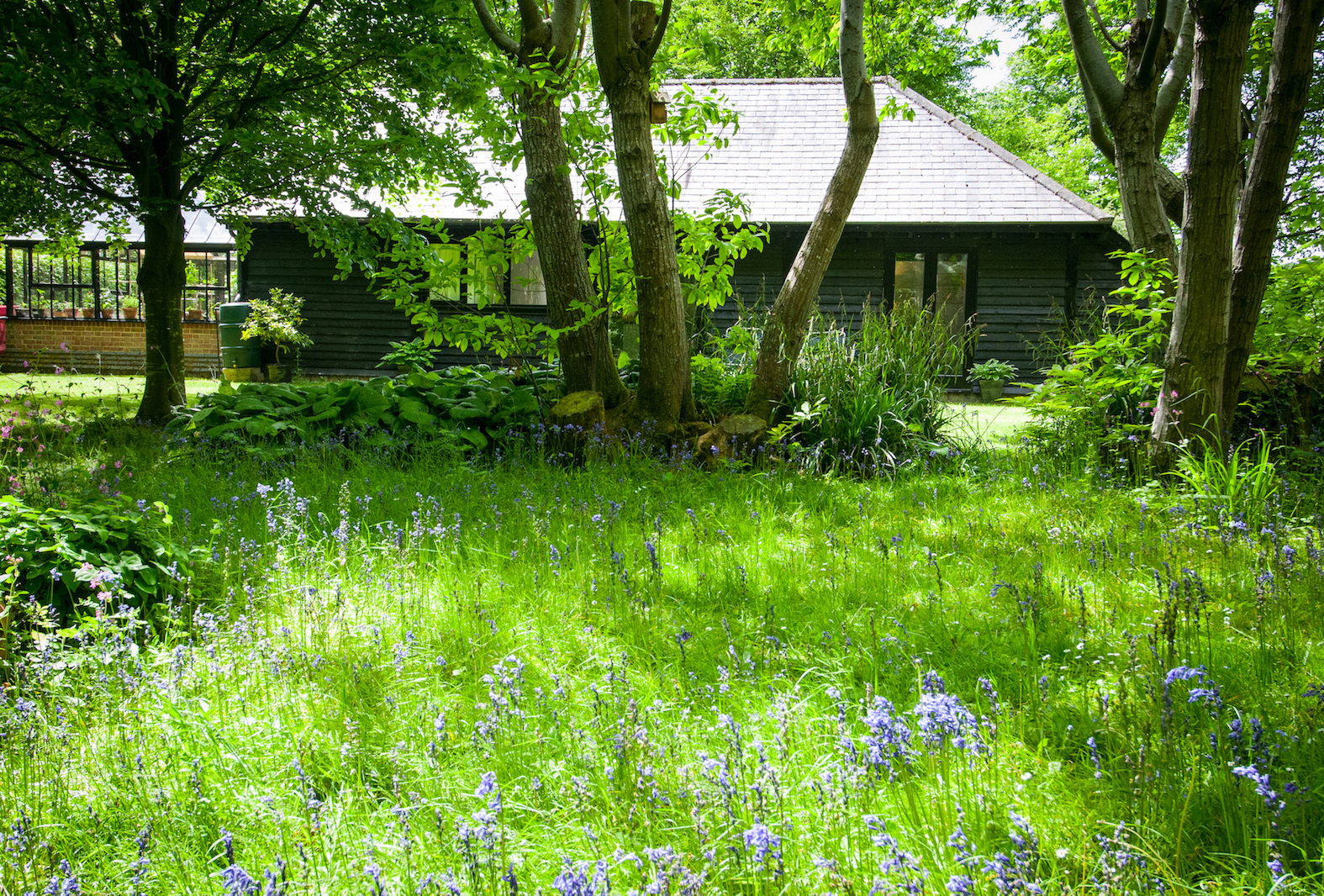 A charming, secluded cottage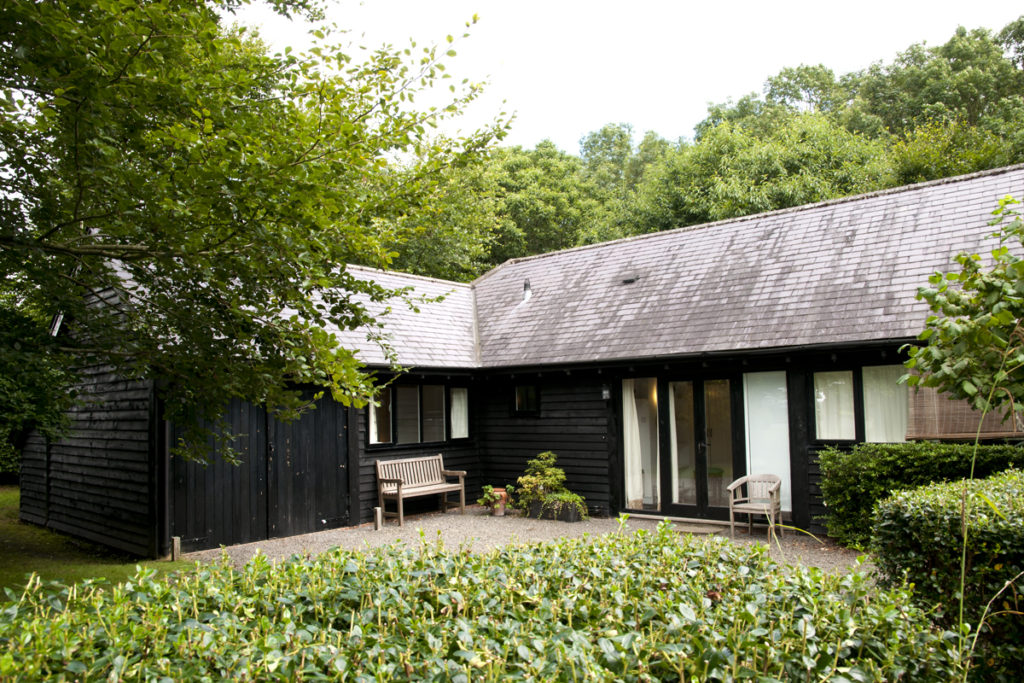 All Saints Cottage is a comfortable single-storey secluded holiday cottage in Wiltshire with double height ceilings and French doors opening onto its own private garden, adjoining a bluebell wood.
The cottage offers you a double bedroom with either one Superking bed or two single beds.
The modern bathroom has both a bath and shower.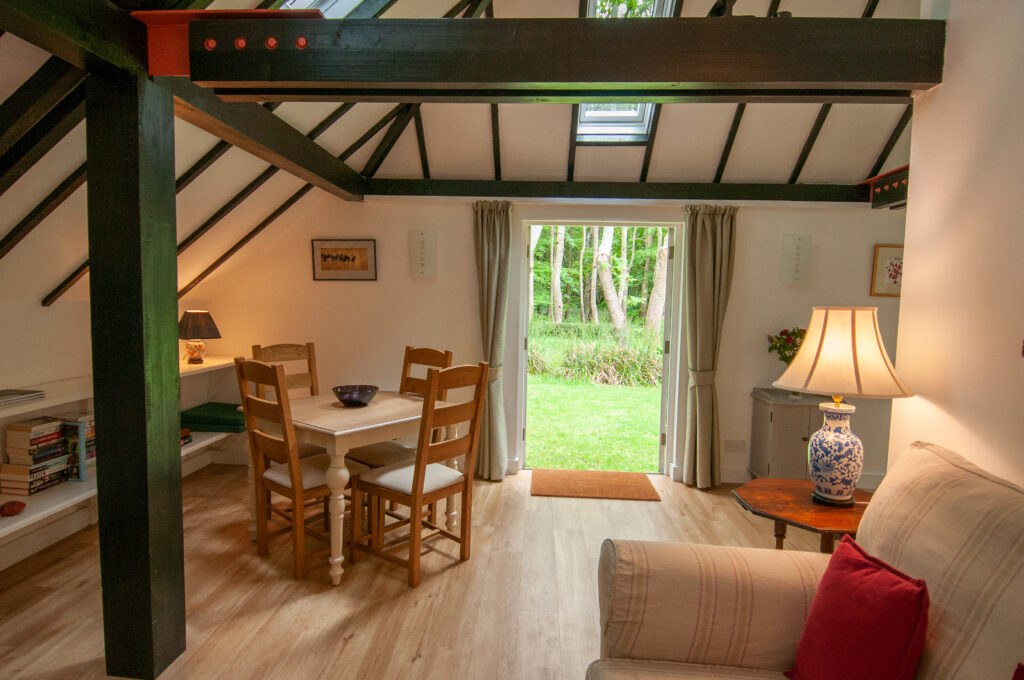 The fully equipped kitchen has a dishwasher, washing-machine and Nespresso machine.
The sitting room has a flat-screen TV, a dining-area and views through the double doors to the cottage's garden.

There is free WiFi and private parking.
It is an ideal base for walking, for exploring Wiltshire or for simply relaxing.
There is so much to discover in the local area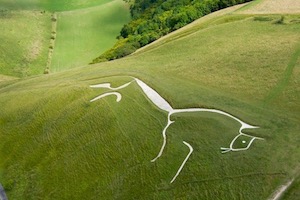 There are fantastic walks in the Vale of the White Horse and Savernake Forest, and along the Kennet and Avon Canal. For cyclists there is the Sustrans National Cycle Route 4 on the doorstep.
Historic houses to visit include Wilton House, Heale House, Longleat, Avebury Manor and the National Trust village of Lacock.
We can advise on the diverse variety of local pubs, restaurants and cafes.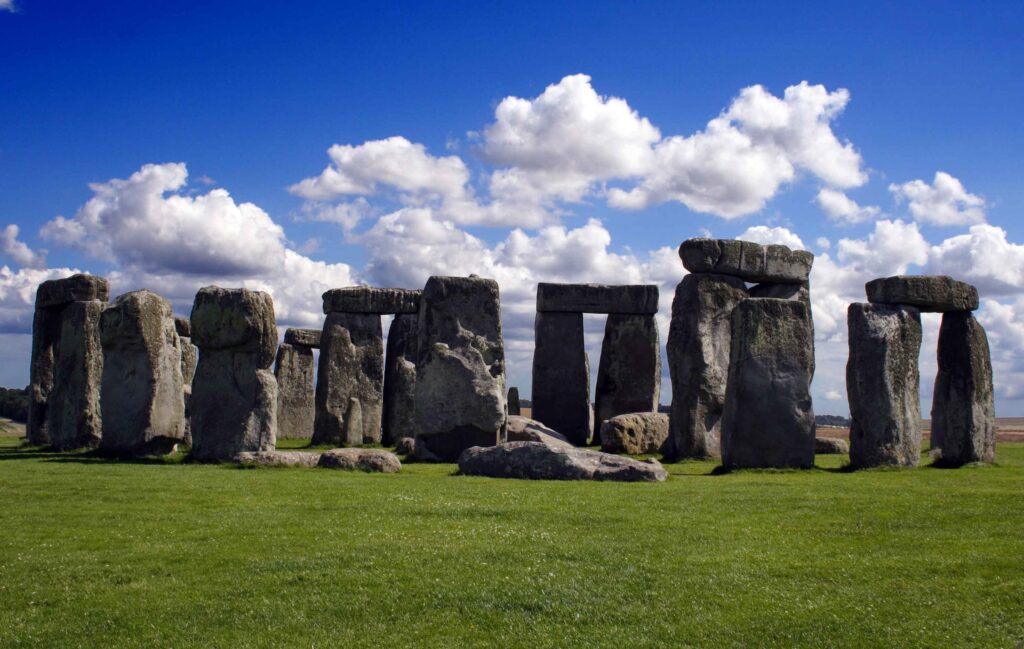 Avebury, Silbury Hill and Stonehenge give you a glimpse of Wiltshire's prehistoric past.
Nearby towns and cities worth visiting include Marlborough, Devizes, Hungerford, Salisbury, Newbury, and Bath and slightly further afield are Winchester and Oxford.
MargaretG231
16. July, 2022.
Peaceful and Secluded We have just returned from a week staying in All Saints Cottage. It was absolutely idyllic - quiet, clean, secluded and with everything you could possibly need - including a Nespresso Coffee machine, with milk, wine and delicious cake on arrival! Fenella, the owner, is absolutely lovely and so helpful. Sitting in the garden in the evening with a glass of wine and complete peace was just like heaven. Can't wait to return.
Quiet and Secluded Getaway for Two at All Saints Cottage We spent a few days enjoying the peace and seclusion of All Saints Cottage and exploring the beautiful local countryside. Thank you, Fenella, for the homely touches and special treats which awaited us. The cottage, set within the garden of the Old Church, and with its own woodland garden, is of a high quality, catering for all your needs for a relaxing stay. All amenities were excellent.With lots of local circular walks and the nearest pub being only a 15 minute walk away, there is plenty to enjoy without travelling any great distance.By contrast, Devizes is worth visiting for its numerous beautiful listed buildings, The Wiltshire Museum, Caen Hill Locks and, of course, not forgetting the Wadworth Brewery Visitor Centre.We hope to return soon.
Idyllic cottage Absolutely perfect cottage. Our host Fenella had thought of everything to make our stay comfortable and she even provided lovely treats to spoil us more. The area is beautiful and steeped in history and so we had interesting walks. There are plenty of good pubs and restaurants which is always welcome.
Waleswalker62
28. October, 2021.
This cottage has the WOW! factor All Saints Cottage is tucked away down a country lane. It is so peaceful, and the garden backs onto woods. We enjoyed watching the squirrels foraging for food and chasing one another round the garden. We usually book two bedroomed holiday cottages, as we like a lot of room and were a little apprehensive in case this one was too small for us. However, not only is it very spacious, the fixtures and fittings are of a high quality too. It is a real home from home. Fenella was very welcoming and had left us wine and cake! We like walking and the countryside around is very pretty. Devises, Pewsey and Marlborough are all nearby, if you want to visit one of the lovely Wiltshire towns. Can't rate this cottage high enough.
Scenic68168636244
20. September, 2021.
A perfect getaway for two This was our second visit to All Saints Cottage.It's location is very secluded yet close to beautiful countryside and ideal for walking on the nearby Downs or visiting the many attractions within easy striking distance.The cottage is well equipped and in a spotless condition with a private garden area perfect for al fresco dining, weather permitting. The owner Fenella is always so welcoming and we will be back again.
Jim B
1. September, 2021.
Great secluded cottage We really liked this secluded cottage with its garden that backed onto woods. Inside was architect designed with wood framing, modern facilities and comfy furniture and for once decent reading lights! There is a great walk to a good pub serving local beer and food made using local produce. A short drive takes you to the Kennet and Avon canal and then on to walks up on the hills with fabulous views for miles around. The area is full of neolithic remains including Avebury and the Wansdyke. A great place to stay for a couple wanting a restful break.
TOUCHWOOD05
30. July, 2021.
TOP QUALITY AND COMFORTABLE COTTAGE We have recently returned from a week's holiday in this top quality, spotlessly clean, cottage for 2 people and we can't wait to return next year. The owner, Fenella, greeted us warmly on our arrival and made us feel very welcome with all the special treats that she'd left for us in the cottage: wine, flowers, special teas and a delicious cake. She had thought of everything to make our stay enjoyable.We were there during a heatwave so although we didn't get to go to all the places we wished to visit due to the extreme heat, we were more than happy to relax under the trees in the secluded garden. Inside the cottage are good quality fixtures and fittings, a comfortable sofa and a bathroom which has both a bath and a separate shower. The huge super-king bed was extremely comfortable and there is the option of this being available as twin beds.Surrounding the cottage are numerous public footpaths.We absolutely loved this cottage and we're so glad we've booked to go back for a longer stay!
Karen P
22. October, 2020.
A blissful escape from the rat race! This was my fourth stay at All Saints' Cottage. It definitely won't be my last!The cottage is a real home from home, in a beautiful tranquil setting. Everything you need is there, plus a few extras. The cottage is spacious, well appointed, cosy, clean and welcoming. The garden, in Summer and Autumn, is an absolute delight. After a day exploring the beautiful countryside, make yourself a large pot of tea (or pour a glass of wine), and enjoy the peace and birdsong with your bare feet on the grass.This is truly a place to unwind and recharge, if you have had a stressful time this is the perfect place to restore your sanity.There is so much to see and do in the surrounding area, including Avebury stone circle, The Kennet and Avon Canal, Marlborough and many others within a short drive. Delights further afield include Bath, Stourhead and Westonbirt Arboretum. All are highly recommended.Hosts Fenella and Duncan, along with Tayberry the lovely labrador, will give you a warm welcome.This has to be my favourite holiday accommodation ever, and I suggest you book a stay soon!
excellent we went to national trust properties 5 all within 1 1.30 hrs away the accomaddation first class comfy bed comfy sofa well equipped kitchen and bathroom spotlees
Kim B
9. September, 2020.
All Saints Cottage, Pewsey Cannot speak highly enough of this property or the lady who greeted us. She was warm welcoming, explained everything including the covid rules. She was most welcoming as was the property. As soon as you open the front door you can smell how clean and fresh it is, in fact, it was spotless. Everything you need is provided but with added extras like fresh flowers, wine, cake and milk which was a lovely touch. The bed is literally a dream to sleep in and so comfortable and fresh. We could not go out due to a week of storms but it just did not matter, it was a joy to spend the week just relaxing at the property and watching the rain fall through the trees in the garden. You feel as though you are in the middle of the woods due to it backing onto the woods, all you hear is the trees rustling and birds singing, the peace is wonderful. Really appreciated the two sun loungers that most properties don't bother with. So relaxing if you get sunny weather, we tucked them just inside the french doors that open up into the large garden, and watched the rain. It was our favourite spot! Parking is easy right by the property and on the flat should you have mobility issues. I cannot recommend this property highly enough, book it - you will have a wonderful stay.